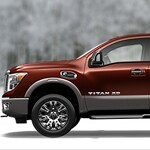 The Nissan Titan is a leader among full-size pickup trucks thanks in part to its cutting-edge automotive technology. Our crew is excited to show you all of the Titan's many tech-forward features, so stop by our location here in Logan for a close-up look and a test drive right away.
The Titan offers an array of standard and optional amenities that are designed to make driving safer than ever before. Rear cross-traffic monitoring, blind-spot tracking and pedestrian detection are sure to enhance your peace of mind whether you're staying close to home or taking off on the open road.
Being able to keep in touch is an extension of staying safe while traveling. With the Titan, you can call or send a message without ever taking your eyes off the road with the available Nissan connectivity system that syncs with your Apple or Android device.