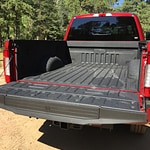 Help your fleet find its way forward with the affordable Ford Super Duty. It absolutely feels like this stupendous heavy-duty pickup truck arrived from the future with a mission to lead. Cutting-edge equipment is intuitively supplied with expertise and precision to efficiently generate organized output in Logan and around the world.
Exponential potential is boldly curated by the seemingly omnipresent Ford Telemetrics mainframe. Live surveillance protocols are implemented to track progress and streamline workflow. The need for automotive repairs anywhere in your lineup is automatically signaled in advance. Intricate communication channels ensure clarity and directness in carrying out your mission.
To enhance your professional initiatives even further, look into the interactive 8-inch LCD presentation showcasing seven informative screens via My View. Detailed trucking specs will keep you attuned to your ride.
As Wilson Motor Company can illustrate for you during a hands-on test drive, this ultra tough workhorse is practically an entire workforce.